Balloon Columns
Balloon columns are affordable, versatile, and make a big impact.

Easy to move, great for indoor or outdoor - you cannot go wrong with balloon columns, the customization options are limitless.
Trust in Us!
Our arches are professionally installed and broken down at the end of the event.
Air-filled decor can last for a week+ indoor.

(Left: 10'x10' classic 4 color spiral arch)
Get Started with a Custom Quote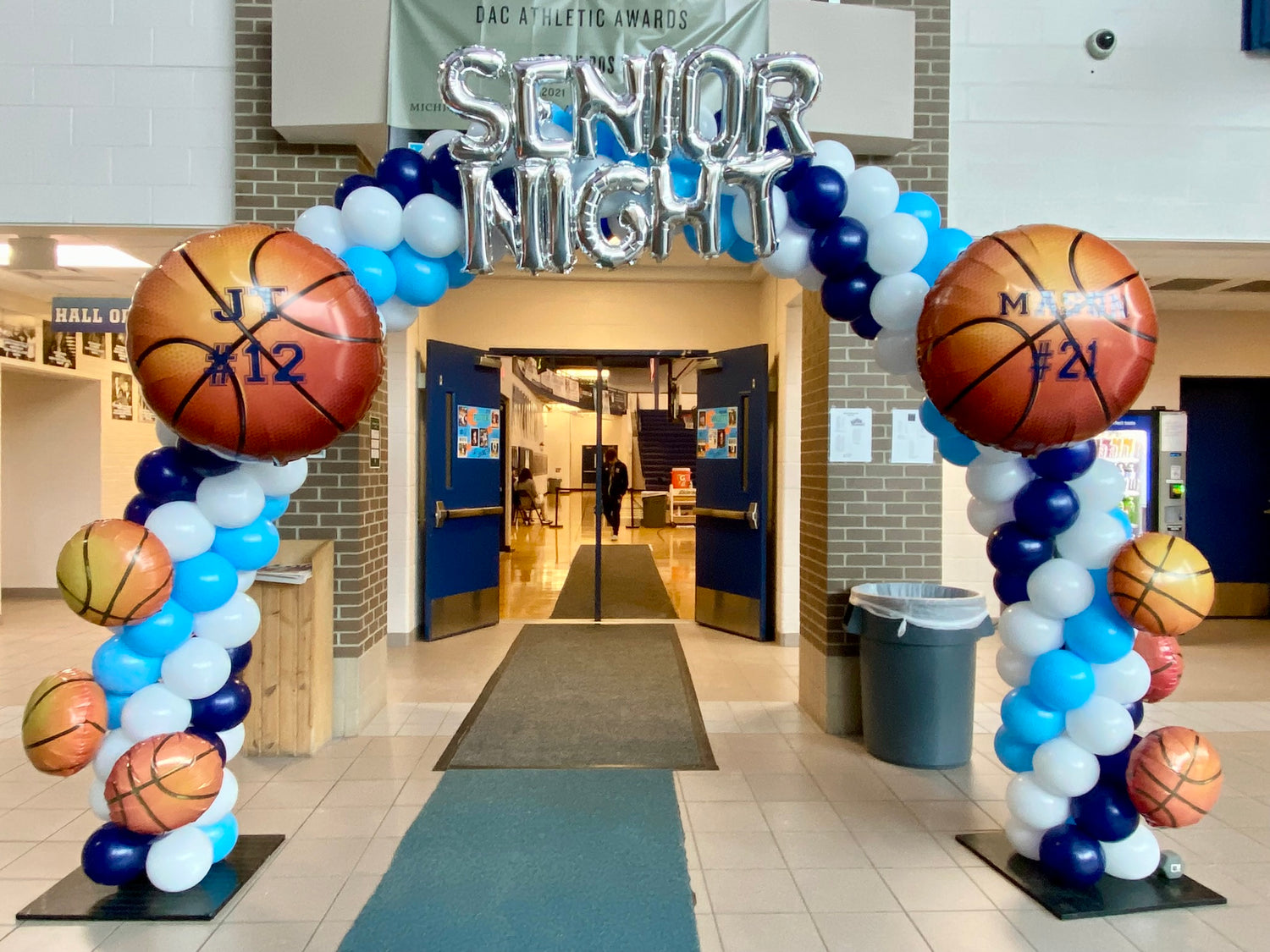 Versatility
Balloon arches come in a variety of sizes, patterns, and styles and are fully customizable. They are great for indoor and outdoor functions.

Ideal for entryway, stage, doorway, walkway, dance floor, or anywhere you want to draw attention!

(Right: custom balloon arch, 10'x10' with vinyl personalization and foil accents)
Design
Choose your colors, theme, style, and pattern - or create something completely custom, it's up to you!

Add foil accents, flowers, greenery, words or numbers, signs, and more!

(Left: 10'x10' organic arch)
Color Chart + Popular Themes
Classic Arch - starting at $250

Includes up to 4 colors. Available in many patterns including spiral, stacked, mixed, and more. Sizes available 6'x6', 8'x8', 10'x10', 14'x14' or custom.

Organic Arch - starting at $275

Balloons are inflated to various sizes to create the "free form" look. Color blocking (shown) or mixed colors. Sizes avaialble 6'x6', 8'x8', 10'x10', 14'x14' or custom.
Balloon Column Frequently Asked Questions
How do I know what size column I need?

Columns are sold in various sizes from mini, approx 4' to giant which are over 10' tall!

The size depends on your needs + ceiling height.
How long do the balloons last?

West Michigan Balloons uses decorator-quality balloons and other high-quality materials to ensure beautiful colors and longevity of our décor.

Indoor Air-filled

Latex and foil air-filled displays should be expected to look nice and fresh for about a week. You'll notice they generally last much longer.

Indoor Helium Latex balloons treated with hi-float, 1-3 days.

Foil balloons generally float for days, if not weeks.

Outdoor Air-filled and Helium
Balloons are unpredictable outdoors and we are unable to offer any guarantee of longevity as exposure to elements such as heat\/cold, wind, etc. affects how the balloons will react.

*We are not responsible for popped or damaged balloons after delivery or pick up.
What do I do with the balloons once my event is over?

Balloon columns are sold with the stand which we do not return for unless previously scheduled.

For other décor items that require a stand (such as arches, hoops, frames, walls, etc.) West Michigan Balloons will return at a previously scheduled time to remove the stand, pop, and properly dispose of the balloons.

There is no additional cost for this service.

If you have columns + arch/es, we will remove the columns at no additional cost.
Balloon Column Uses

Balloon arches are great for awareness walks/races, parades, festivals, large spaces, crowds, family gatherings, grand openings, anniversaries, and retirement parties.